Using Freeflyer for optical observations
Feb 25, 2023
---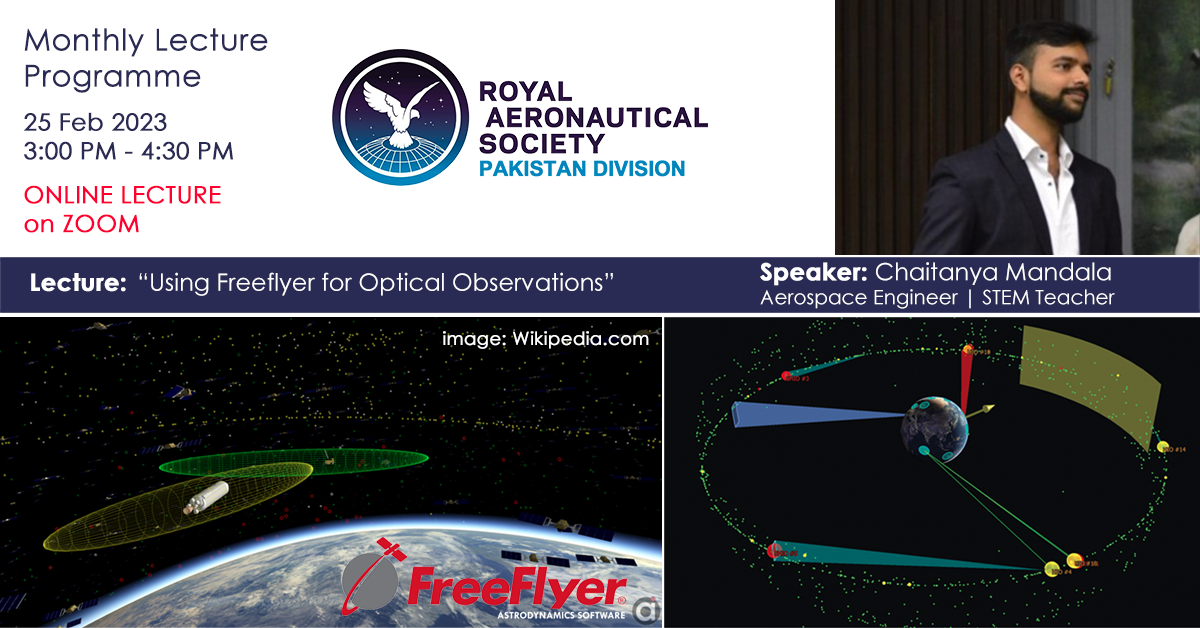 The Royal Aeronautical Society, Pakistan Division is pleased to invite you to attend its online lecture "Using Freeflyer for optical observations" which will be delivered by Chaitanya Mandala, an Aerospace engineer at the University of Sapienza. The lecture will be delivered using Zoom Software (https://zoom.us/).

EVENT DETAILS:
Date: Saturday, Feb 25, 2022
Time: 3:00 PM to 4:30 PM Pakistan Standard Time
Speaker: Chaitanya Mandala
LECTURE ABSTRACT:
During this session, the listeners will have the opportunity to learn about the various capabilities of Freeflyer software for optical observations. They will gain an understanding of the software's application in the field and how it can be used to enhance ground station operations. The session will provide a comprehensive overview of the process involved in setting up and utilizing Freeflyer software for a range of optical observations, including object tracking and imaging. With this knowledge, attendees will be better equipped to use the software to support their research or work in the field of space exploration. By the end of the session, listeners will have a deeper understanding of the benefits of using Freeflyer software for optical observations and the key features that make it a valuable tool for space professionals.
ABOUT THE SPEAKER:
Chaitanya's research at Pleiades lab involves developing innovative software for groundstation operations. His expertise in using UHF ground stations and Freeflyer software has helped him to contribute significantly to various research projects in the field of space communications. As an alumnus of the International Space University, Chaitanya has gained a comprehensive understanding of various aspects of the space industry, including space policy, economics, and international cooperation. With his extensive knowledge and hands-on experience in the field, Chaitanya is a valuable asset to the aerospace research community.
PROGRAM DETAILS (Pakistan Standard Time UTC+5)
1500: Registration of attendees
1510: Introductory Remarks
1515: Lecture
1600: Questions & Answers
1620: Closing Remarks

The Royal Aeronautical Society is a professional institution dedicated to the global aerospace community. [Visit Global website: www.aerosociety.com Pakistan Division website www.raes.org.pk
Facebook: www.facebook.com/raes.pk and let us have your comments].
Book Now