Jet Engine Noise Reduction through Set-based Concurrent Engineering
Sep 16, 2021
---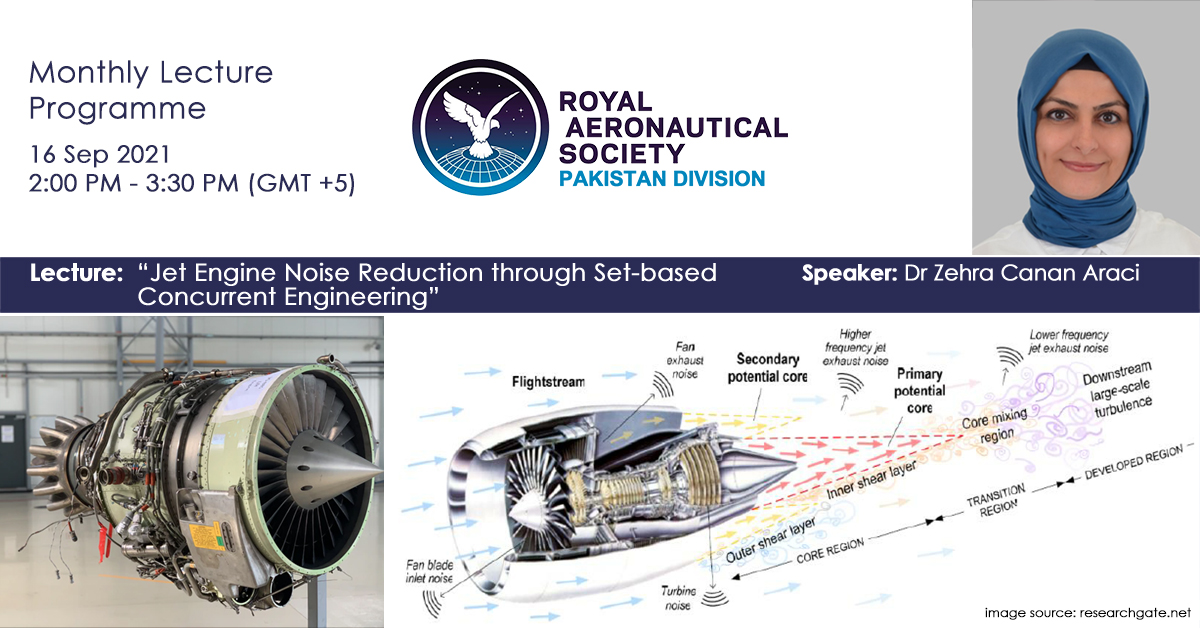 The Royal Aeronautical Society Pakistan Division is pleased to invite you to attend its lecture on the topic: "Jet Engine Noise Reduction through Set-based Concurrent Engineering" which will be delivered by Dr Zehra Canan Araci.
Lecture attendance registration form: https://goo.gl/forms/FwmTIPqxSduMefOx1. Please note that due to the prevailing social-distancing situation, the lecture will be delivered on an online broadcasting app ZOOM, therefore the login details (meeting ID and password) will be shared with a limited number of registered participants selected sequentially (based on the registration time) at 1200 HRS on the 16th of Sep, 2021.
EVENT DETAILS:
Date: Thursday, September 16, 2021
Time: 2:00 pm to 3:30 pm (Pakistan Standard Time GMT+5)
Speaker: Dr Zehra Canan Araci (Assistant Professor, University of Sharjah)

ABOUT SPEAKER
Dr. Zehra Canan Araci is currently an assistant professor at the Industrial Engineering and Engineering Management department at University of Sharjah in United Arab Emirates. Dr. Zehra received her bachelor's degree in industrial engineering in Turkey. She has 13 years of academic and industrial experience in quality management systems and lean approaches. She is holding a PhD degree in manufacturing, specifically, lean product and process development area. She has consulted for companies in Turkey, guiding them on their journeys to quality certification and excellence awards. She conducted innovative research projects with prestigious firms in the UK including Rolls-Royce and Airbus. She introduced Lean Hospital initiatives at one of the prestigious hospitals in the UAE. She has also taught several courses related to innovation, knowledge management and lean thinking. In addition to these subjects, sustainability and industry 4.0 are in her current research interests.
ABSTRACT
Noise emission that is caused by civil aircrafts is a major environmental concern in today's technological era. Some regulations are enforced by the aviation authorities and governments. These regulations put pressure on the airlines and accordingly aircraft manufacturers to reduce the impact of new aircrafts on the environment. What are the challenges that they are facing? How do they react to the requirements to reduce the environmental effects? Most importantly, how do they adjust to the rapid customer requirement changes? Those questions can be answered by set-based concurrent engineering (SBCE) which is an enabler of lean product development approach. SBCE is able to reduce the time-to-market while making accurate decisions throughout the product development process. Trade-off curves are vital elements of SBCE in order to acquire right knowledge of the products.
PROGRAM DETAILS (Pakistan Standard Time UTC+5)
1400: Registration of attendees
1410: Introductory Remarks
1415: Lecture
1500: Questions & Answers
1520: Closing Remarks

The Royal Aeronautical Society is a professional institution dedicated to the global aerospace community. [Visit Global website: www.aerosociety.com Pakistan Division website www.raes.org.pk
Facebook: www.facebook.com/raes.pk and let us have your comments].
Kashan Jafri AMRAeS MILT
Honorary Secretary, Pakistan Division
Mobile: 0332-2405912
Book Now